Hello, I'm Joe

Hello, I'm Joe Clark and I'm on a mission to help people live a more self-sufficient and sustainable  lifestyle, in the simplest way possible. So, I created Garden With Joe! An affordable grow your own box set that features seasonal seeds and everything you need to grow and harvest them. Specifically designed so it can be used, whatever your outdoor space.

This Months box

Our monthly boxes provide you with everything you need from compost to pots, along with detailed growing instructions and videos. We include seasonal seeds - which this month is Mizuna, Turnip and Radish. Along with top tips and recipes for your delicious new crops. We also love veggies that grow super quickly as we know you and your little growers can't wait to see what they have grown

Buy me

How it Works

We have a global following of over 2 million and love to show you how to reduce your food waste and use everyday plants you find in your garden to cook with. Across our channels and our newsletter we share top tips for keeping your plants alive and healthy. Along with building our GWJ community who - like us - are passionate about being outdoors and the benefits this has for your health and happiness.
Our September Box is here! I can't wait to start growing with you
We are a new and exciting grow your own seeds subscription box!  That makes growing your own vegetables, herbs and fruits at home super simple and really fun! Plus you get to help the planet along the way!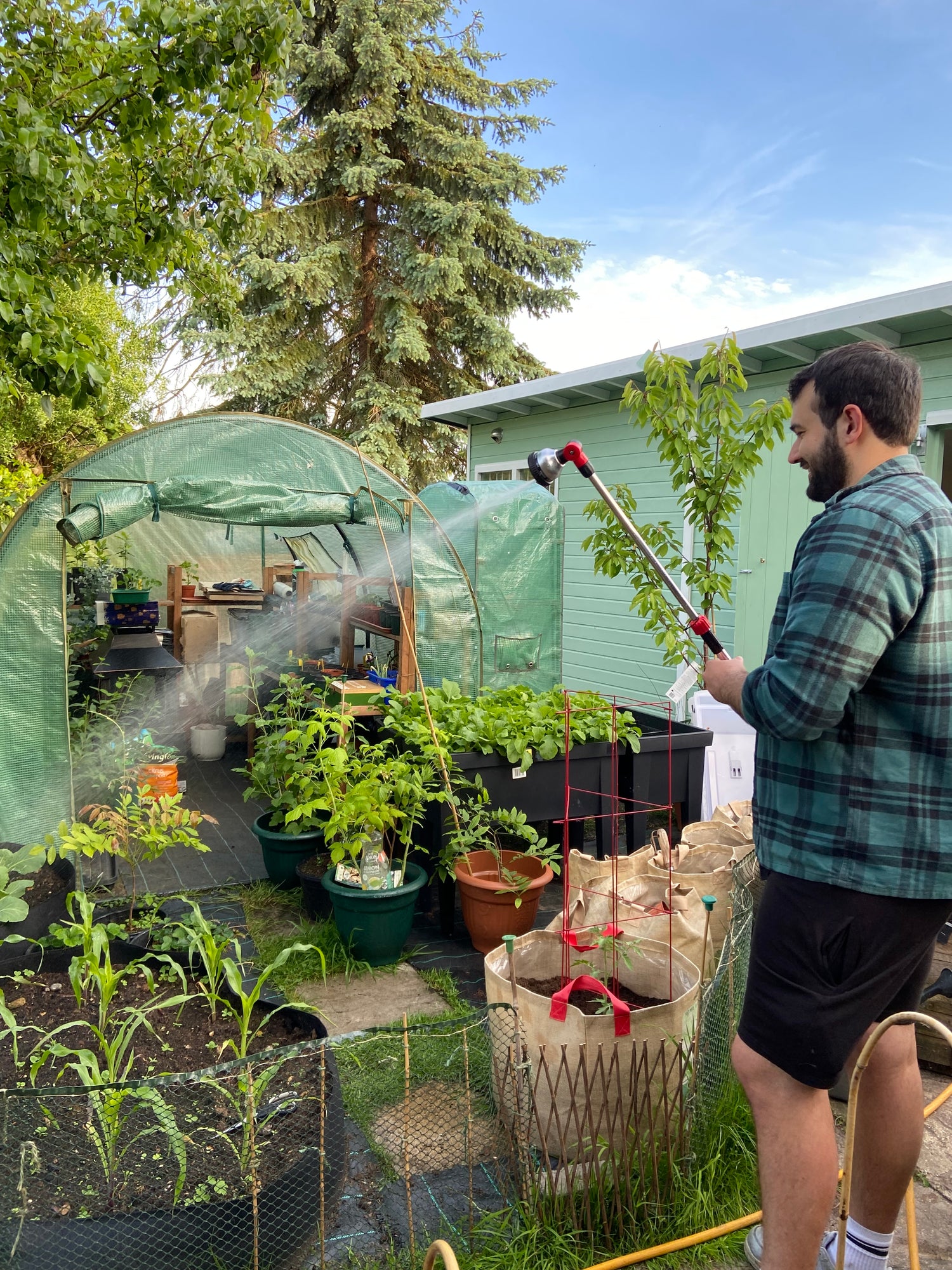 Yummy for you! Better for the planet! Benefiting the community!
Grow real food!
Cutting your dependance on supermarkets, rising food costs and experiencing the real taste of your food.
Better for the planet!
We are committed to being as sustainable as possible, so you can rest assured you are helping yourself and the planet.

Benefiting community!
By supporting us you are supporting your community. We support UK wide charities thanks to you, our amazing growing family. Click here to find out more around our charities.
Here is what our customers have to say!
Ricky

"Garden with Joe is fantastic! They offer great support and the products are extremely high quality. I love how there is a lot of focus on sustainability."

Julie

" The boxes are a great activity to do with the grandchildren. Completely beginner-friendly and the perfect amount of product so your seeds succeed."

Kev

" The box is great value for money and the team was available over email to help along the way!"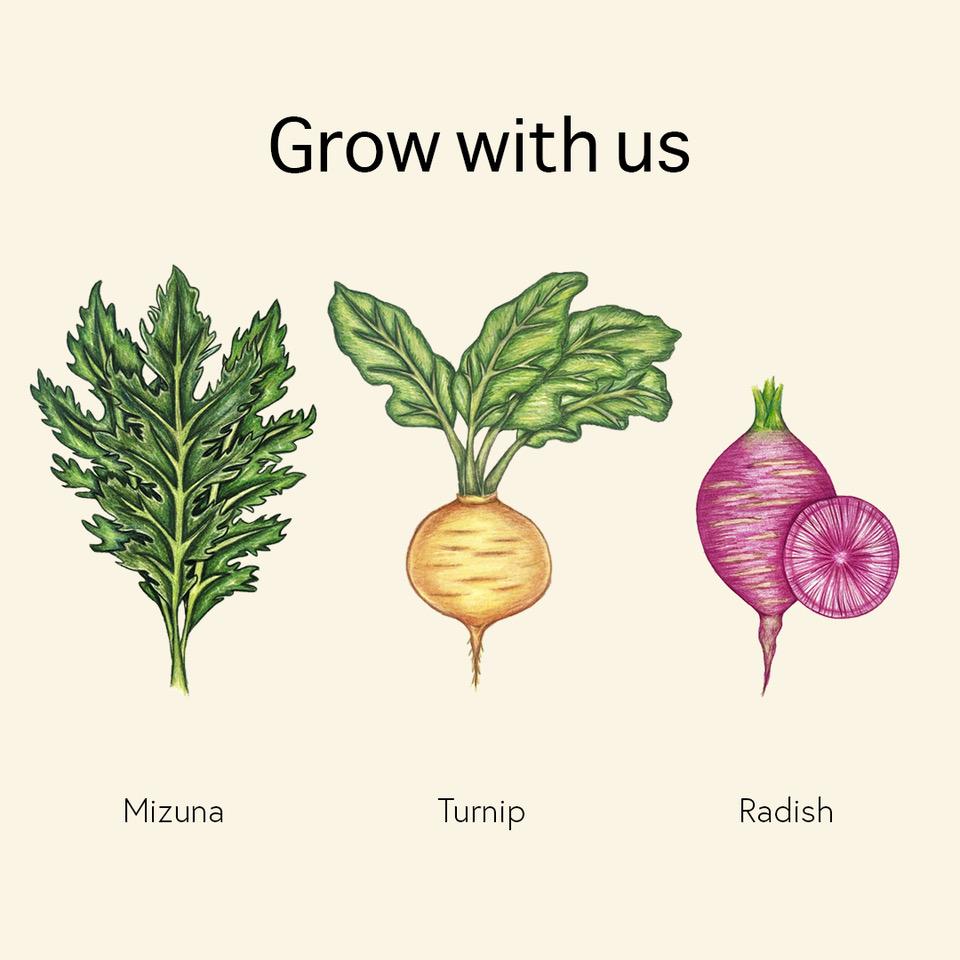 What's in the box?
Kyoto Mizuna
Super fast growing and hardy crop, perfect for growing in the cooler months.
Golden Globe Turnip
A true zero waste crop, harvest the delicious root young, and also eat the tender green foliage.
Pink moon F1 Radish
Super easy, delicious and pretty resistant to colder weather. Gives a fiery kick to any meal!
Your Questions Answered
What comes in my box each month?

Every box will include three or four packets of hand selected seasonal seeds.

We also provide you with sustainable pots of the correct size to grow your plants, all the peat-free compost you will need, seed trays made out of recycled materials and bamboo labels to name your plants and keep track of who is who.

As well as the above you will receive detailed grow guides to make sure you and your plants are happy. These include how to sow, grow and snack on your plants.

As well as a 10% off voucher for additional purchases on our online store. (We will be adding lots more products in the coming weeks)
I'm a complete gardening beginner, can I do this?

Of course! In fact our service is perfect for you. We remove the guesswork and take care of the boring stuff for you. Our grow guides will walk you through every step of the growing process.

We have hand-selected the perfect amount of compost and the perfect size pots for your seeds. Remember you can contact us via email with any issues you may have and we will try our best to sort them for you!
How much space do you need?

Actually less than you would imagine! All of our seed varieties are hand-selected to be container compatible. As a result, a medium to large balcony or bigger will be fine.

If you have a small balcony, it is probably best to select a box every two months (option coming soon), unless you want your balcony to look like the Amazon rain forest (Which is a great look too!)

Please note, your growing space will need to get a good amount of sunlight, for the best harvests possible.
Are there any commitments?

Nope. Garden with Joe is a flexible subscription service. You can modify, or cancel as long as its three days before the payment day of each month as that is when your recurring order will be be made ready to be shipped on time.
When do you take payment?

After you place your order we will take payment straight away for the first month.

For all following deliveries we will take payment on the same date of each month. For example if you place your first order on the 10th of the month, all recurring payments will be the 10th. You can manage, update. pause or cancel your subscription at anytime by creating an account, or emailing us as long as it is three days before your payment date each month.
What if I do not want a delivery every month?

More options will be coming soon
Where do you deliver?

While we are getting started we are only shipping to mainland England, Wales, Scotland and Northern Ireland.

As we grow in the coming months, we aim to add North America and Europe to this list.
How sustainable are the boxes?

Sustainability is at the heart of everything we do. Our aim is to be one of the most eco conscious gardening brands around. Our box is fully recyclable, eco friendly and compostable. Please check out our sustainability page for more information.
Is it possible to select my own seeds?

To start off with we will work with our seed suppliers to pick the best varieties for you as I will send you what I am growing that month to make sure it is in season. However, watch this space, very soon we are hoping to offer a more custom package soon!
Do you offer discounts for schools, businesses, large families or any other bulk order?

Yes, if you are looking to place a multi box order please contact us directly via the contact us page.

We may be able to offer you a discount or customise your boxes.